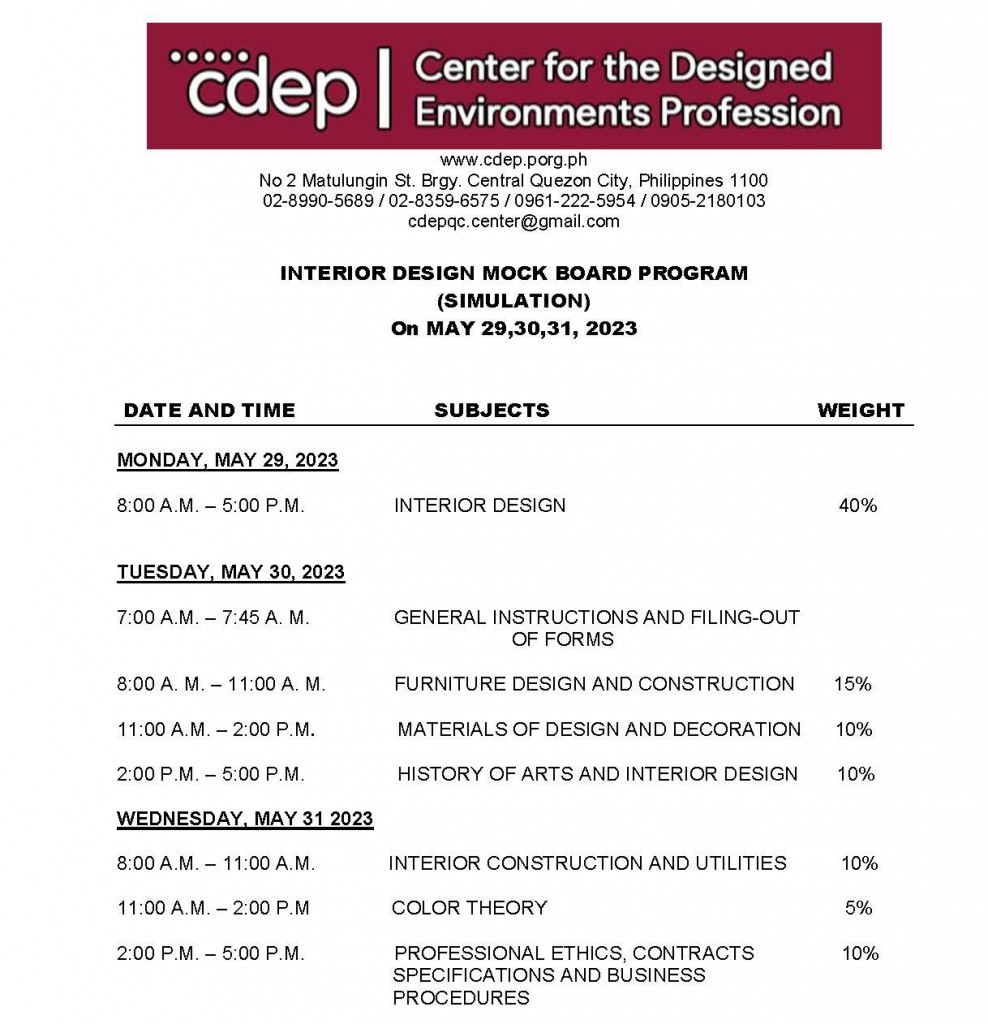 General Instructions:
Room assignments will be email and posted on the CDEP Facebook page (https://www.facebook.com/cdep.lfh) or website (www.cdep.org.ph) two or three days before the examination date. For more information call us at 02-8990-5689 / 02-8359-6575 / 0961-222-5954 / 0905-2180103 and look for Jay-Ar and Lucil
Only students who have registered  as taking the Mock Board Online will have access to the e-Mock Board Exam.
Online Mock Students will be added to a new Course named "ID Mock Board 2023". You can only access the exam on the scheduled date your name is listed on.
You will be reminded of your Mock Board Online Exam via email prior to the day of your exam.
Exam can be taken anytime between 8am and 5pm.
You will be reminded of your Mock Board Online Exam via email prior to the day of your exam.
Make sure to use a Desktop Computer or Laptop and not a Tablet or Mobile Phone to take the exam
There is a time limit during each part. Breaks can be taken in-between Parts.
After the Exam, you will be presented with the result of your Mock Exam.
You may use the following on your examination day
2. Please come before 6:30 a. m. on the day of the Mock Board examination to verify your room and seat number. Be punctual because late examinees will not be admitted and the chance to take the Mock board will be forfeited.
3. Examinees are required to wear the following attire on the examination day:
a. MALE Examinees – White polo shirts or t-shirt with collar, tucked in
b. FEMALE Examinees – White blouses or t-shirts with collar
4. Bring the following on the examination day:
a. Confirmation email
b. Two or more pencils (No. 2)
c. One ballpen with black ink only
d. One piece long transparent/plastic envelope (for keeping your valuables and other allowed items.
e. Non-programmable Calculator.
f. Please bring the following materials:
g. Bring food, for there's no lunch break.
h. During examination, examinees will not be allowed to leave the examination rooms, borrow anything or communicate with one another on any subject matter.
5. Examinees shall bring every examination day the following: drawing boards not less than 24″ x 36″ with the corresponding T-Squares, set of drawing instruments, scale rule in english and metric, 60 degrees and 45 degrees triangles, protractors, compass, pencils, technical pens, erasers, cutters, paste or glue, stapler or adhesive tapes, 1 inch bulldog clips, water color, colored pencils, colored chalk pastel and rendering requirements.
6. Examinees shall provide the materials for the subject below:
• Interior Design
A3 sheets tracing paper and A3 or A4 sheet bond papers
Drafting board or table
T square or straight edge
Pencils and/or mechanical pens
Templates (circular, square, elliptical) furniture templates not allowed
Rulers, triangles, french curve, flexible curve (if you have), compass (if you have, protractor
Rendering materials
7. Examinees shall provide the materials for the following subjects:
• Furniture Design and Construction Drawings
A3 bond paper.
Pen over pencil (all black, no color)
Scale: 1' – 1 ½" English scale or 1 inch on standard paper scale.
• Materials of Design and Decoration Drawings
A4 bond for drawings and scratch paper for computations
• History of Arts and Interior Design Drawings
1 sheet Tracing Paper A4 (8.27" x 11.69")
• Color Theory
Rendering Materials
8. Read carefully and follow the instructions on your examination guide.
Quezon City, MAY 2023
APPROVED BY:
CRISTOPHER S.P. ESPINA
President
NOTE: Only enrolled students on a particular topic will be allowed to view and take that specific topics' test.
GOOD LUCK!!